Honda Civic Owners Manual: Audio System Basic Operation
Models with Display Audio
To use the audio system function, the ignition switch must be in ACCESSORY (q or ON (w*1.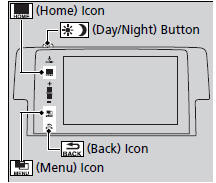 Select to go to the home screen.

Select to display available options including Sound, View Radio Text, Music Search, and playback modes.

: Select to go back to the previous screen when the icon is illuminated.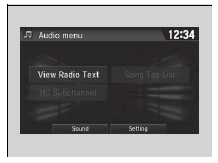 button: Press to change the audio/ information screen brightness.
Press

once and select - or + to make an adjustment.
Each time you press , the mode switches between daytime, nighttime and off.