Honda Civic Owners Manual: How to Select a Song from the Music Search List with the Selector Knob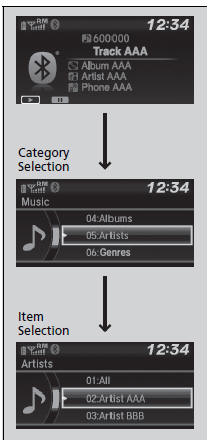 1. Press

to display the music search list.
2. Rotate

to select a category.
3. Press

to display a list of items in the category.
4. Rotate

to select an item, then press

.
Press and rotate repeatedly until a desired item you want to listen is displayed.
How to Select a Song from the Music Search List with the Selector Knob
Depending on the Bluetooth' device you connect, some or all of the categories may not be displayed.