Honda Civic Owners Manual: Playing Bluetooth' Audio
Your audio system allows you to listen to music from your Bluetooth-compatible phone.
This function is available when the phone is paired and connected to the vehicle's Bluetooth' HandsFreeLink' (HFL) system.
Phone Setup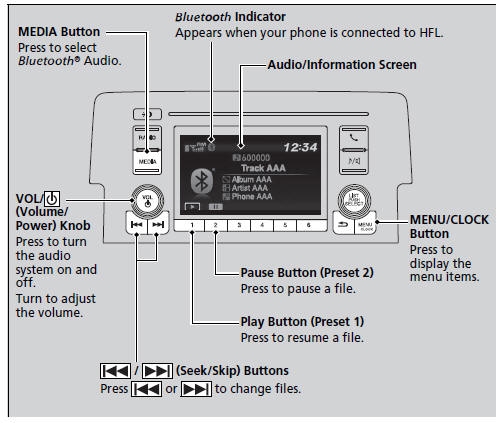 Playing Bluetooth' Audio
Not all Bluetooth-enabled phones with streaming audio capabilities are compatible with the system.
For a list of compatible phones:
U.S.: Visit www.handsfreelink.honda.com, or call 1-888-528-7876
Canada: Visit www.handsfreelink.ca, or call 1-888- 528-7876.
In some states, it may be illegal to perform some data device functions while driving.
Only one phone can be used with HFL at a time.
When there are more than two paired phones in the vehicle, the first paired phone the system finds is automatically connected.
If more than one phone is paired to the HFL system, there will be a delay before the system begins to play.
In some cases, the name of the artist, album, or track may not appear correctly.
Some functions may not be available on some devices.