Honda Civic Owners Manual: Using the Trunk Release Button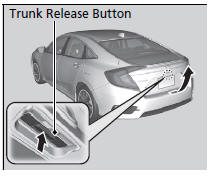 Models with smart entry system
Push up the release button on the trunk lid after the doors are unlocked.
When You Cannot Open the Trunk
Even if the trunk is locked, you can open the trunk if you carry the smart entry remote.
Some exterior lights flash and the beeper sounds.
Using the Trunk Release Button
Models with smart entry system
A person who is not carrying the smart entry remote can unlock the trunk if a person who is carrying it is within range.
The smart entry remote may not operate if it is too close to the trunk.
If you forget the remote inside, the beeper will sound and the trunk will not close.
If the beeper sounds after you close the trunk, move the smart entry remote away from the trunk and close again.