Honda Civic Owners Manual: Precautions for Opening/Closing the Trunk
Opening the trunk
Open the trunk all the way.
If it is not fully opened, the trunk lid may begin to close under its own weight.
Closing the trunk
Keep the trunk lid closed while driving to:
Avoid possible damage.
Prevent exhaust gas from leaking into the vehicle.
Exhaust Gas Hazard
Using the Trunk Opener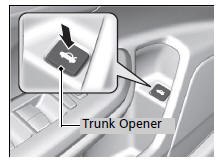 Pressing the trunk opener on the driver's door unlocks and opens the trunk.
When You Cannot Open the Trunk