Honda Civic Owners Manual: How to Select a File from the Music Search List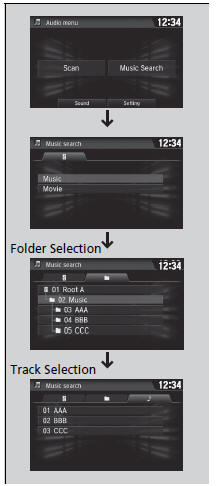 1. Select

and select Music Search.
2. Select Music.
3. Select a folder.
4. Select a track.
Playing a USB Flash Drive
Use the recommended USB flash drives.
General Information on the Audio System
WMA files protected by digital rights management (DRM) cannot be played.
The audio system displays Unplayable File, then skips to the next file.
If there is a problem, you may see an error message on the audio/information screen.
iPod/USB Flash Drive