Honda Civic Owners Manual: Options During a Call
The following options are available during a call.
Mute: Mute your voice.
Transfer: Transfer a call from the system to your phone.
Touch Tones: Send numbers during a call. This is useful when you call a menudriven phone system.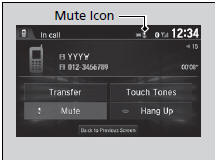 The available options are shown on the lower half of the screen.
Select the option.
The mute icon appears when Mute is selected. Select Mute again to turn it off.
Options During a Call
Touch Tones: Available on some phones.
You can select the icons on the audio/information screen.