Replacing the Flat Tire
Do not over tighten the wheel nuts by applying extra torque using your foot or a pipe.
Models with wheel cover
Make sure the wire support ring is hooked into the clips around the edge of the wheel cover.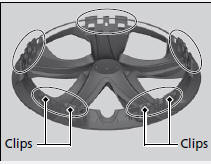 Align the valve mark on the wheel cover to the tire valve on the wheel, then install the wheel cover.