Honda Civic Owners Manual: Advanced Airbags
The airbags have advanced features to help reduce the likelihood of airbag related injuries to smaller occupants.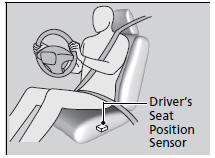 The driver's advanced airbag system includes a seat position sensor.
Based on information from this sensor and the severity of the impact, the advanced airbag system determines the optimal deployment of the driver's airbag.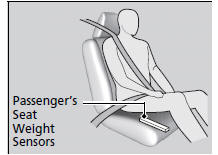 The front passenger's advanced airbag system has weight sensors.
We advise against allowing a child under the age of 12 to ride in the front passenger's seat.
However, if you do allow a child under 12 to ride in the front passenger's seat, note that the system will automatically turn off the front passenger's airbag if the sensors detect that the child is approximately 65 lbs (29 kg) or less.
Advanced Airbags
If there is a problem with the driver's seat position sensor, the SRS indicator will come on and the airbag will inflate with full (normal) force, regardless of the driver's seating position.
For the advanced airbags to work properly:
Do not spill any liquid on or under the seats.
Do not put any object under the passenger's seat.
Make sure any objects are positioned properly on the floor. Improperly positioned objects can interfere with the advanced airbag sensors.
All occupants should sit upright and wear their seat belts properly.
Do not cover the passenger's side dashboard with a cloth, towel, cover, etc.
Passenger Front Airbag Off Indicator